UDonateacar was set up by Silverlake Automotive Recycling in 2010. Based in Southampton, Silverlake was already known for supporting its regional community and the team saw UDonateacar as a way to reach even more people by giving customers across the UK an easy way to make a charitable donation via scrapping their car responsibly. The scheme became hugely popular and over the years it has raised much-needed funds for many charities.

Since 2020, the Covid pandemic has created challenges and caused suffering that previously could never have been imagined. Funding for charities to provide support services to vulnerable and disadvantaged people and communities has never been more in need. The Silverlake team decided the best way to help, and mark the company's 75th anniversary in 2021, was to re-launch UDonateacar with a new focus.

New for 2021, UDonateacar has teamed up with national charity Global's Make Some Noise to focus on supporting the small, often lessor known charities working in local communities. These charities provide crucial services including food banks, mental health and domestic violence helplines, carer support, community projects and employment programmes to name a few. 100% of the monies raised by donations to UDonateacar are passed to Global's Make Some Noise which distributes funds to small, local charities which have applied for grants and successfully completed an assessment and approval process.

Also new for 2021 is UDonateacar's partnership with Kinto – the global brand for Toyota's mobility services. Kinto provides fleet management and funding solutions and is dedicated to offering mobility services to existing and future customers in the UK. Our thanks to Kinto for generously providing the UDonateacar team with an environmentally friendly electric car which is used to visit regional businesses and community events to promote the initiative.

Thank you UDonateacar. Raising funds and profile is the key and this scheme can help many good causes through these channels.
Tina DWCT
We make donating your vehicle a breeze.

Trusted
We are one of the most experienced vehicle salvage / breakers in the UK and we pride ourselves on our good track record.

Fair
We cut out the middle-man and we are industry experts, running a professional and quality service.

Secure
We own the collection vehicles and the Automotive Treatment Facilities licensed to dispose of "End of Life" vehicles.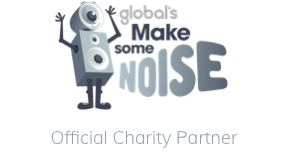 Global's Make Some Noise is an appeal operated by Global Charities Limited, a registered charity in England & Wales (1091657) & Scotland (SC041475)